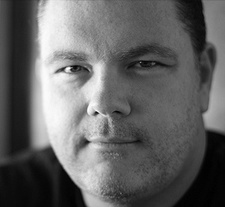 Chris Ullrich is a photographer, writer, producer, analog tool user, husband, father, fan of caffeinated beverages and occasional sleeper. He currently resides in the Texas Hill Country with his wife and son and his extensive collection of photographic equipment, notebooks, pencils, pens, typewriters and coffee paraphernalia.
Chris is a member of the Director's Guild of America, the Film Shooters Collective and the Writer's League of Texas. You can find him on Twitter (@ChrisU) and Instagram (@UllrichPics). Some of his film and television credits can be found at IMDB.
His work has been featured at places like The Unofficial Apple Weblog (TUAW), Comic Book Resources, Cinematical/Moviefone, ComicMix and LAist. In addition, he is currently the co-host of The Flickcast, a podcast about movies, tv, beer and pop culture.
About This Site
This site, which has been published in various forms since 2004, features personal thoughts, insights, observations, opinions and recommendations. It isn't affiliated with any other organization, business or individual, except where noted.
The thoughts, insights, observations, opinions and recommendations expressed here are Chris' alone, unless otherwise indicated. This site does occasionally feature content and links to other sites and sources. Those are indicated accordingly.
Also, this site sometimes features Amazon affiliate links. This means if you click on a link to something here that contains an affiliate link, this site will receive a commission if you end up making a purchase through Amazon's website. But don't worry, this site only endorses things the owner has personally paid for and used, unless where noted.