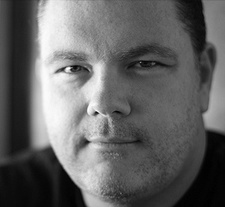 I'm Chris Ullrich. I'm the co-host of The Flickcast, a podcast about movies, TV, comics and pop culture. I'm also a photographer, writer, recovering filmmaker, analog aficionado, drinker of caffeinated beverages and occasional sleeper.
My writing (and more) has been featured at places like The Unofficial Apple Weblog (TUAW), Comic Book Resources, Cinematical/Moviefone, ComicMix and LAist. If you want to see some of my photography, take a look at my Instagram.
I got my start working in the entertainment industry (when they still shot film) and over the years was a production manager, line producer, producer and writer. I also became a member of the Director's Guild of America. Those were some fun times. If you're interested, you can check out some of my credits at IMDB.
Last, but certainly not least, I became a father for the first time on September 20, 2013. So far, it's been quite an adventure.
I wouldn't have it any other way.
About This Site
This site, which has been published in various forms since 2004, features my personal thoughts, insights, observations, opinions and recommendations. It isn't affiliated with any other organization, business or individual, except where noted.
The thoughts, insights, observations, opinions and recommendations expressed here are mine and mine alone, unless otherwise indicated. I do occasionally feature content and links to other sites and sources. Those are indicated accordingly.
Also, in the interest of full disclosure, I am an Amazon affiliate. This means if you click on a link to something I write about here that contains an affiliate link, I will receive a commission if you end up making a purchase through Amazon's website. But don't worry, I only endorse things I have personally paid for and used, unless where noted.
Thanks for stopping by.